Service group "Systematic Reviews and Meta-Analyses"
Department of Medical Statistics
The number of scientific publications is increasing rapidly every year. This poses a great challenge for clinicians and scientists who want to obtain comprehensive and up-to-date information on a medical topic. It is therefore necessary to systematically record, critically evaluate and, if possible, summarise individual studies on the same topic. This can be done in the form of evidence syntheses, such as systematic reviews. The service group "Systematic Reviews and Meta-Analyses" supports clinicians and scientists in planning, conducting and analysis these evidence syntheses. With regard to the financing model and cost accounting, we follow the procedure in the scientific service unit "Medical Biometry and Statistical Bioinformatics".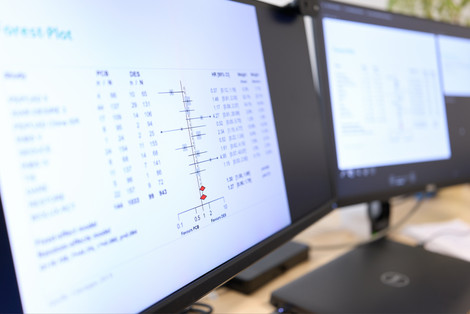 Aims
Methodological advice and support for interested clinicians and scientists who would like to conduct a systematic review, meta-analysis, guideline or other form of quantitative evidence synthesis (e.g. evidence-based patient information, overview) on an issue in their field.
Acquisition of third-party funding for the preparation of systematic reviews/meta-analyses (e.g. funding priority Clinical Studies / Systematic Reviews of the Federal Ministry of Education and Research) and the preparation of guidelines (e.g. Innovation Fund of the GB-A).
Commissions for Health Technology Assessments (HTAs) e.g. of the Institute for Quality and Efficiency in Health Care (IQWIG) or Medical Service of the National Association of Health Insurance Funds (MDS).
Preparation of evidence reports and methodological support for guidelines in accordance with AWMF regulations.
Participation in Cochrane reviews
Establishment and members of the Service group "Systematic Reviews and Meta-Analyses"
The service group was founded as a Systematic Review Unit in 2010 by Prof. Jean-Francois Chenot (General Medicine), PD Dr. Sebastian Straube (Occupational, Social and Environmental Medicine) and Prof. Tim Friede (Medical Statistics). Sebastian Straube is a member of the editorial boards of the Pain, Palliative and Supportive Care Group of the Cochrane Collaboration and the journals ISRN Pain and ISRN Obesity. Sebastian Straube is also on the committee of the Special Interest Group on Systematic Reviews in Pain Relief of the International Association for the Study of Pain. Tim Friede is a reviewer in the Multiple Sclerosis Group of the Cochrane Collaboration. In 2021, Prof. Tim Mathes (Medical Statistics) took over the leadership of the Systematic Review Unit and expanded it into a service group. In the field of evidence based medicine, Tim Mathes is department spokesman for the methodology department of the EBM network (German Network for Evidence-Based Medicine), Cochrane member and Senior (Protocol) Editor at BMC Systematic Reviews.